Jock New Design in Executive Office Tables
Admin
We just recently started increasing our furniture options in office furniture. In the next few weeks, customers of will be able to view multiple options in office furniture, which includes Office Tables, Work Stations, Meetings/Conference Tables, Office Storage Shelves, Center Tables,  Side Tables and Office Chairs.
Jock executive office table is the newest addition to our office furniture line. This table is made in Turkish Melamine, which is a new material requiring very limited maintenance and available in different colors. Melamine comes with a textured surface which feels like actual wood.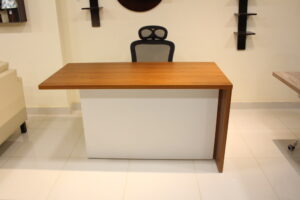 The table in the picture above is in Sheesham color with a white base which gives a very elegant look. If you want to buy this table you can click here
[su_label type="success"]Buy Jock Office Table[/su_label]
Or you can visit our Store on Main Shaheed-e-Millat Road to see the table and place your order.
[su_label type="success"]Store Location[/su_label]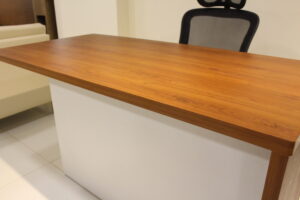 If you would like to place an order for the Chair in the above pics, you can click here
[su_label type="success"]Buy Office Chair[/su_label]
Stay tuned and we will be sharing some cool new designs for office furniture in the coming days.